Many of them strongly believe that the internet is Google!, Yes Google is the king of internet world no doubt about that. How they achieve the kingdom is mere simple, keep innovating, updating and high quality customer experience .As a search engine they are providing appropriate information within a fraction of a second. Everyone can search on Google no technical knowledge requires. So here I would like to share some tips to make searching easier and smarter.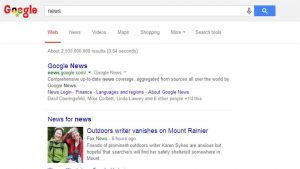 While you searching on Google can see the tabs news, videos, images, shopping and more near the search text box. if you're looking for a new pair of shoes you should clicking the shopping tab. If it's particular news you're searching for, try the news tab. Under more section you can find more things like apps and flights.
Searching for a specific quote may required while searching on Google .technically Google takes all words you enter and scan entire documents. If you search seo and smo it will look for anything that has those words contains and provide the information. If you use quotes, you find Web Pages that have those exact words in that order. This you can apply when searching for specific song lyrics, as you can see in the screenshot above.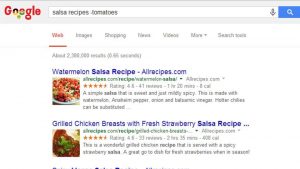 Above we see the function of quotes for getting exact words in SERP like that we can use hyphens for excluding a  word  if you use hyphens in a search, it tells Google to exclude that word from the search. In the screenshot above you can see that I searched for salsa recipes without tomatoes and Google gave me a bunch of recipe results that have no tomatoes. It's simple and effective if you're looking for something specific.
Set  Price Range For An Item & Search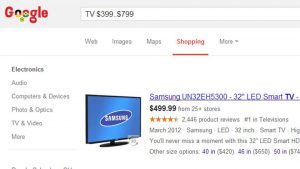 Google   offer's an awesome feature, setting a price range and get results within that price range   by using periods (..) . You can see in the screenshot looking a TV within the price range of $399 to$799 and see the result which i got , in the result you can't see less than $399 and more than $799. It's a great experience when we go for a shopping online.
Search For Two Things @ Once
Google allows you to search two things at same time by using the word OR. There is many situations we get confused when we want to search more than one terms at once or if you're not entirely sure what you need to search for. In the above screenshot you can see that i got multiple kinds of chocolate simultaneously.
Colon To Search Specific Sites
Gathering information about a specific person on a single website in general searching scenario is difficult. So Google introduce a smart technique by using colon (:) for example if you want to get information about your favorite sports player on ESPN. There is a simple way to do this, just see the above screenshot.
Try all the tips above discussed, be a good searcher